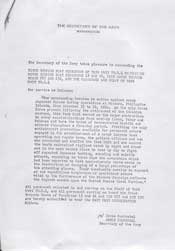 THE SECRETARY OF THE NAVY
WASHINGTON
The Secretary of the Navy takes pleasure in commending the
MOTOR TORPEDO BOAT SQUADRONS OF TASK UNIT 70.1.4. COMPRISING MOTOR TORPEDO BOAT SQUADRONS 13 AND 16, PLUS MOTOR TORPEDO BOATS 227 AND 230, AND THE COMMANDER AND STAFF OF TASK UNIT 70.1.4
for service as follows:
"For outstanding heroism in action against enemy Japanese forces during operations at Mindoro, Philippine Islands, from December 15 to 19, 1944. As the only Naval force present following the retirement of the invasion convoys, this Task Unit served as the major obstruction to enemy counter-landings from near-by Luzon, Panay and Palawan and bore the brunt of concentrated hostile air attacks throughout a five-day period. Providing the only antiaircraft protection available for personnel ashore engaged in the establishment of a motor torpedo boat operating and repair base, the gallang officers and men who commanded and staffed the Task Unit and who manned the boats maintained vigilant watch by night and stood out in the open waters close to bse by day to fight off repeated Japanese bombing, strafing and suicide attacks, expending in three days the ammunition which had been expected to last approximately three weeks in the destruction or damaging of a large percentage of the attacking planes. Their invaluable service in support of the expeditious completion of operations ashore vital to the furtherance of the Mindoro Campaign reflects the highest credit upon the United States Naval Service."
All personnel attached to and serving on the Staff of Task Unit 70.1.4, and all personnel serving on board the Motor Torpedo Boats of Squadrons 13 and 16 and MTB 227 and MTB 230 are hereby authorized to wear the NAVY UNIT COMMENDATION Ribbon.
/s/ James Forrestal
JAMES FORRESTAL
Secretary of the Navy