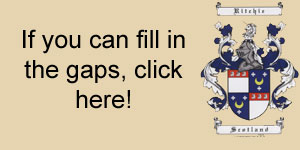 Joshua Ritchie (m)

(b. 1825) Northern Ireland
Notes are recorded
Parents
Father:
(unlisted)
Mother:
(unlisted)
Siblings
No siblings recorded
Children
Mary Ritchie (b. 1847) w/ Lettie Ritchie
William Ritchie (b. 1855) w/ Lettie Ritchie
Josh W. Ritchie (b. 1856) w/ Lettie Ritchie

Spouse
Lettie Ritchie
Notes
| | |
| --- | --- |
| | "[A]n Irish immigrant, who had entered the United States at New York in 1850, probably from Northern Ireland, as his Protestant religion and surname suggest a Scotch-Irish decent." -Billy's Story p. 17 |
The immediate ancestors of the subject presented in tree format.